The High-Throughput Technology Development Studio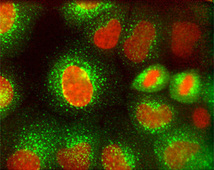 The TDS provides cell-based screening services using RNAi and chemical compounds to conduct chemical genomics assays. The preferred screening technology is high content screening with automated microscopes and automated image analysis, using advanced cell cultures techniques such as 3D cell culture, primary cells and model organisms (C. elegans, Zebra fish). The TDS is an open access facility with users from within the Max Planck Society, other universities and industrial partners throughout the world.
Laboratories wishing to carry out a screen can contact us to discuss the screening approach and assay. We provide our expertise to help the users develop their assay to become screenable. The assay is then transferred to the TDS, miniaturized, automated and a pilot screen is carried out. If satisfactory, an entire screen is carried out and analyzed.
Please contact Dr. Marc Bickle (
bickle@mpi-cbg.de
) for further information concerning screening or training opportunities.
---
Teaching activities

The TDS offers courses in high content screening, automated image analysis and multiparametric statistics. The full course runs over a week and includes a RNAi and a compound screen. The image analysis course is a one day course using the open source software CellProfiler. The statistics course is a one day course using the open source software KNIME.


Equipment

Perkin Elmer OPERA: automated confocal microscope equipped with twister and plate hotel.
Thermofischer ArrayScan VTI: automated widefield microscope with twister and plate hotel.
BDPathway 855: optional confocal automated microscope with live cell chamber, on-board injection and connected to an incubator with a Catex robotic arm for long term experiments.
Tecan Freedom Evo 200: liquid handling station with 384 needles head and 8 independent needles for automated transfection.
Tecan Freedom Evo 200: liquid handling station with 96 disposable tips head and 8 independent needles for compound addition, fixing and staining cells and antibody staining.
Beckman Coulter Biomek FX: liquid handling station with 96 or 384 disposable tips head for compound addition, compound or siRNA cherry picking, library rearraying, phosmid library synthesis, esiRNA library synthesis.
Echo 550 contact free nanoliter dispenser with acoustic energy.
Drop dispensers: instruments for automated cell seeding, dye addition, automated infection in various volumes rapidly and reproducibly.
Plate washers: instruments for washing steps in microtiter plates.
Amaxa Nucleofector: single cuvette or 96 well plate electroporator for mammalian cells.
Perkin Elmer Envision, Tecan Genios Pro, Tecan Genios Plus: plate readers for luminescence, fluorescence and adsorption.